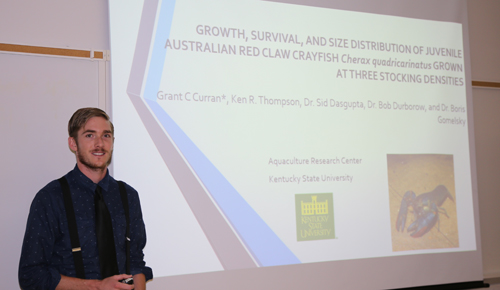 Graduate student Grant Curran Defended his Masters Thesis titled, "Effects of Stocking Density on the Production of Australian Red Claw Crayfish in a Nursery and the Marketing of Adult Red Claw Crayfish at Farmers' Markets." The thesis committee members included Dr. Sid Dasgupta, Dr. Robert Durborow, and Dr. Boris Gomelsky.
Photo by Charles Weibel
__________________________________________________________________________________________________________________________
Kristy Allen Wheeler Finishes Thesis Research Trial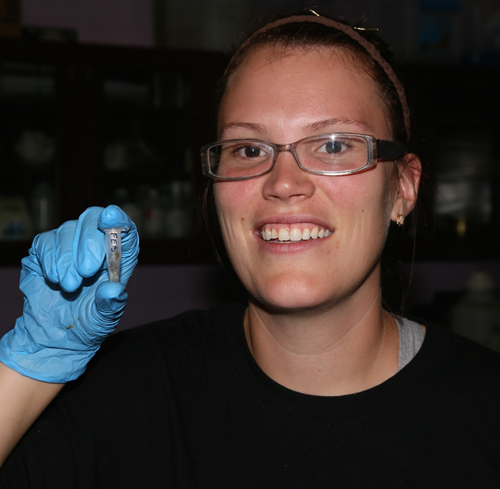 Kristy Allen Wheeler's thesis research trial came to an end August 20, 2015. Ken Thompson and Jeremy Caudill took the final count and bulk weights of all 24 experimental tanks. This information will be used to calculate the body weight gain, specific growth rate, metabolic growth rate, feed conversion ratio, protein efficiency, lipid productive value, and specific feeding rate of the shrimp. Shrimp were sacrificed for further analysis that will take place at Alltech.
Kristy Allen Wheeler and her major professor, Dr. Vikas Kumar dissected seven shrimp from each tank and removed the gut, muscle, and hepatopancreas. The gut and hepatopancreas of one shrimp from each tank will be analysed for histology. The hepatopancreas from three shrimp and the muscle from two shrimp from each tank will be used for fatty acid analysis. The muscle from four shrimp from each tank will be analysed for proximate analysis of the shrimp. Next week, the remaining shrimp will be sacrificed for molecular analysis.
Photo by Charles Weibel

________________________________________________________
KSU Shrimp Market Research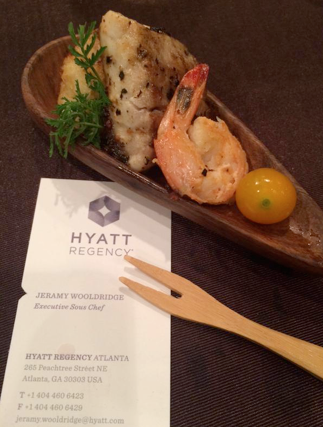 DESCRIPTION OF MARKETING OPPORTUNITY:
Kentucky State University's Aquaculture program provided the Louisville Fish Co. with five pounds of Pacific White Shrimp in order to fulfill a request from the executive chef at the Hyatt Regency in Atlanta, GA. Chef Jeramy Wooldridge had called the Louisville Fish Co. looking for Kentucky sustainable seafood items in part of a cooking competition amongst Hyatt Hotel chefs.
Shrimp was provided by Kentucky State University to showcase a project of raising Pacific White Shrimp in indoor biofloc systems. The Louisville Fish Co. agreed to get as much information from Chef Wooldridge as possible, in order to provide possible insight into markets for future production of shimp in Kentucky.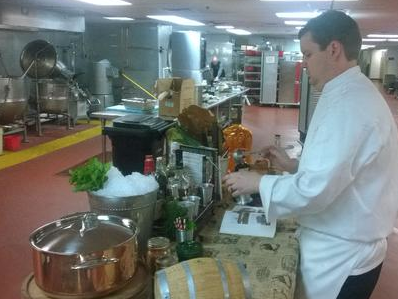 MARKET FEEDBACK:
Five pounds was sold to Chef Wooldridge. Shrimp was shipped frozen overnight to the Hyatt Regency in Atlanta via United States Postal Service. The cost of shipping was $120.00. The shrimp we sold at $8.00/lb. Originally, the Louisville Fish Co. had quoted Chef Wooldridge a price of $10.00/lb to which he had no objection, but when the event's date moved up, and shrimp were not the original size of 20/30, and rather 30/40 count per pound, a $2.00/lb discount was given for any inconvenience.
Chef Wooldridge ended up winning the competition amongst Hyatt Chefs, and he said a big part of it was the fact that the shrimp were raised in Kentucky. He believed it was a bit of wow factor for guests and judges. In regards to flavor, Chef said that he did not taste any additives or "sulfates". He also said, unlike other farmed-raised shrimp he has had, the KSU shrimp were not overly salty, which he said helped a lot, as there was "no risk to over salting when seasoning". Overall, he said the size, flavor, and qualities were all excellent in his opinion as well as the judges of the competition.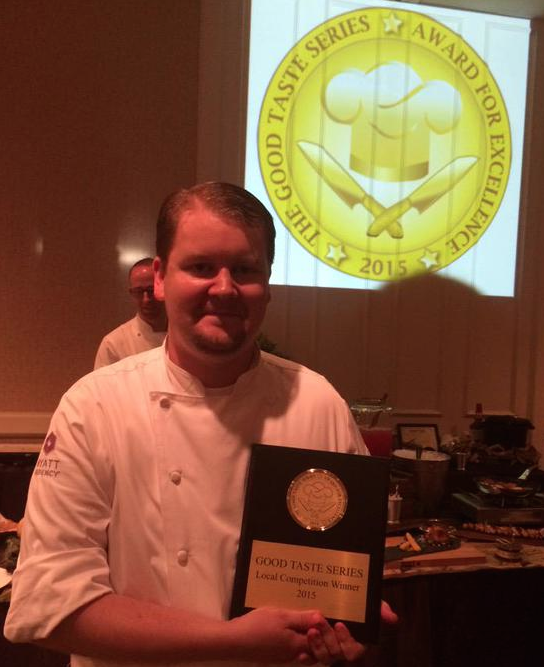 MARKET CONCLUSIONS:
Having Chef Wooldridge prepare and win a cooking competition should bode well for Kentucky State University, the Louisville Fish Co., and the overall perception of Kentucky Aquaculture, as chefs, guests, and hotel administrators were all witness to Kentucky Shrimp winning the 1st place prize. While the event itself is not a viable market for future producers, at least it is known that the shrimp produced in the biofloc systems were deemed high quality and extremely tasty. If producers in the future could replicate KSU's shrimp, they should feel confident in marketing their products as sustainable and high quality shrimp. Marketing to hotel chefs may be a viable market, with suggested pricing anywhere between $8-12.00/lb.
_____________________________________________________________________________________________________