The lighting required for plant growth in temperate aquaponics applications can constitute significant energy cost and must be as efficient as possible in terms of growth stimulation and energy efficiency. In this study metal halide, fluorescent, light-emitting diode (LED), and induction lighting technologies were compared on indoor production of lettuce and basil with tilapia. LED lighting outperformed all other technologies in terms of plant growth induction. The authors argue that LED produces greater red spectra and higher Red:Blue ratios than other lights which appears to be advantageous for plant growth in aquaponics.
The 2022 National Aquaculture Extension Conference and Continuing Education Workshop was co-hosted by the University of Maine and Kentucky State University in Portland, Maine. Forrest co-chaired this meeting and was an essential part of the planning and program development. Chelsea gave a presentation on the use of aquaponic project based investigations (APBI) as an educational tool in k-12 environments.
This workshop featured topics such as aquaculture literacy, marketing and economics, shellfish and finfish production, youth education, diversity, equity and inclusion, and professional development. Attendees also got boat tours of Maine's extensive aquaculture industry and were able to observe oyster, seaweed and mussel farms. This was an exceptional networking opportunity and it was very inspiring to see what other aquaculture extension professionals were doing in their diverse locations.
KSU Aquaculture hosted the 2022 AgDiscovery group on Wednesday, June 15th. Students from all
over the country joined KSU Research and Extension staff as they toured the aquaculture facility
and participated in a fish dissection. Students were able to compare the internal and external
anatomy of Tilapia, Hybrid Striped Bass, and Koi. Many students participating in the program have
an interest in veterinary science and enjoyed the opportunity to be hands-on with different fish
species.
Ag Discovery is a USDA program that provides a unique opportunity for students to explore
agricultural sciences and gain knowledge about careers in animal and plant disciplines, wildlife
management, veterinary medicine, biotechnology, entomology, food safety, food production,
agribusiness, forestry, and much more. Students experience hands-on learning workshops, behindthe-
scenes tours, laboratory and field exercises, and a variety of character- and team-building
activities.
Twenty high school-aged students participated in the Ag Discovery program at KSU. Students in the
2022 program got to explore the Bluegrass stockyard, visit an aquaponics farm in Lexington, KY, visit a
vet tech program, got a behind-the-scenes tour of the Louisville Zoo and the Aquarium of the Smokies,
and got to experience some free time in Gatlinburg, TN.

Mark Johannemann and members of Dr. Ray's lab stocked shrimp tanks for Mark's thesis project this week. Mark's project is examining the effectiveness of in-line, low-cost denitrification filters using different media types and ethanol dosing. Many inland shrimp farmers report high rates of nitrate buildup in their tanks which can limit growth and survival of shrimp. Denitrification is a process in which microbes in low oxygen environments can reduce nitrate to nitrogen gas, which then diffuses from the water. Most denitrification methods currently used are expensive and/or complex and hard to manage. Developing a simple, low-cost method may allow farmers to greatly increase water reuse, reduce salt use, and decrease waste discharge.
Dr. Ken Thompson Presents Research in Hawaii
Dr. Thompson traveled to the 2022 Hawaii University International Conference (HUIC) Science, Technology & Engineering, Arts, Mathematics and Education Conference. The 10th Annual STEM/STEAM and Education Conference promotes an academia well versed in the fields of Science, Technology, Engineering, Arts, Math and Education which is a key portion of the public education agenda of the United States.
The conference intends to stimulate competitiveness and our nation's future economic prosperity through encouraging and inspiring more of our best and brightest academics in the study of STEM/STEAM and Education fields. He was selected to present the Kentucky State University aquaculture STEM education data.
Dr. Thompson presented "Evaluating High School Students' Perceptions and Experiences using a Qualitative Methods Approach When Introduced to an Aquaponics Curriculum."
_____________________________________________________________________________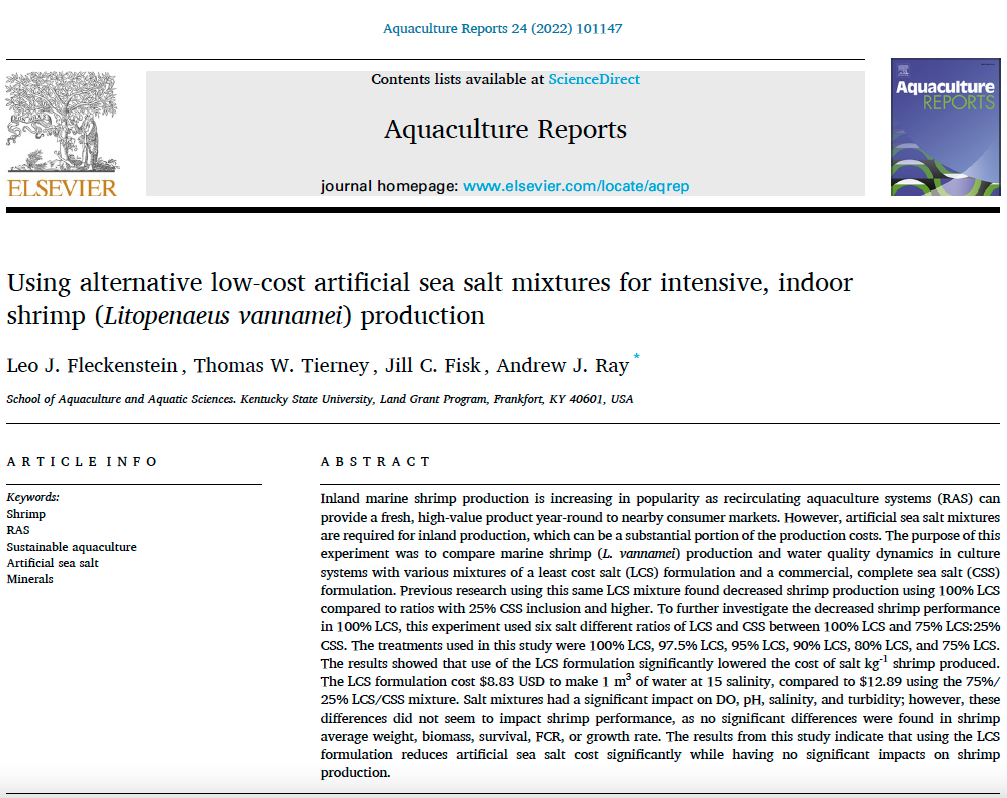 Dr. Andrew Ray's lab has published a new article in the peer-reviewed journal Aquaculture Reports. A previous study from the Ray lab found highly varied saltwater shrimp performance when using a low-cost, homemade salt mix (LCS), while a commercial sea salt mix (CSS) and 3 different ratios of both mixes (75%:25%, 50%:50%, 25%:75%) showed more consistent production. This new study more closely examined 100% use of the LCS mixture in shrimp production, along with 5 other ratios of LCS:CSS from 97.5%:2.5% up to 75%:25%. This study found no difference in shrimp production using increased amounts of the LCS mixture, low variability across all treatments, high shrimp survival and growth rates, and decreased production costs when using the LCS mixture. This study has important implications for shrimp producers, as salt costs represent a significant portion of the reoccurring costs in shrimp farming and use of the LCS mixture reduces salt cost by 65% when compared to a CSS mixture. There are already several shrimp farmers both in Kentucky and abroad who have adapted this mixture and reported decreased production costs and no changes in shrimp performance.
Click Here to Download Full Journal Article
_____________________________________________________________________________
James Brown Featured in the Student Spotlight of the American Fisheries Society Fish Culture Section Newsletter
Click Here For Full Newsletter
_____________________________________________________________________________
National Oceanic Atmospheric Association
Guide to Federal Aquaculture Grant Services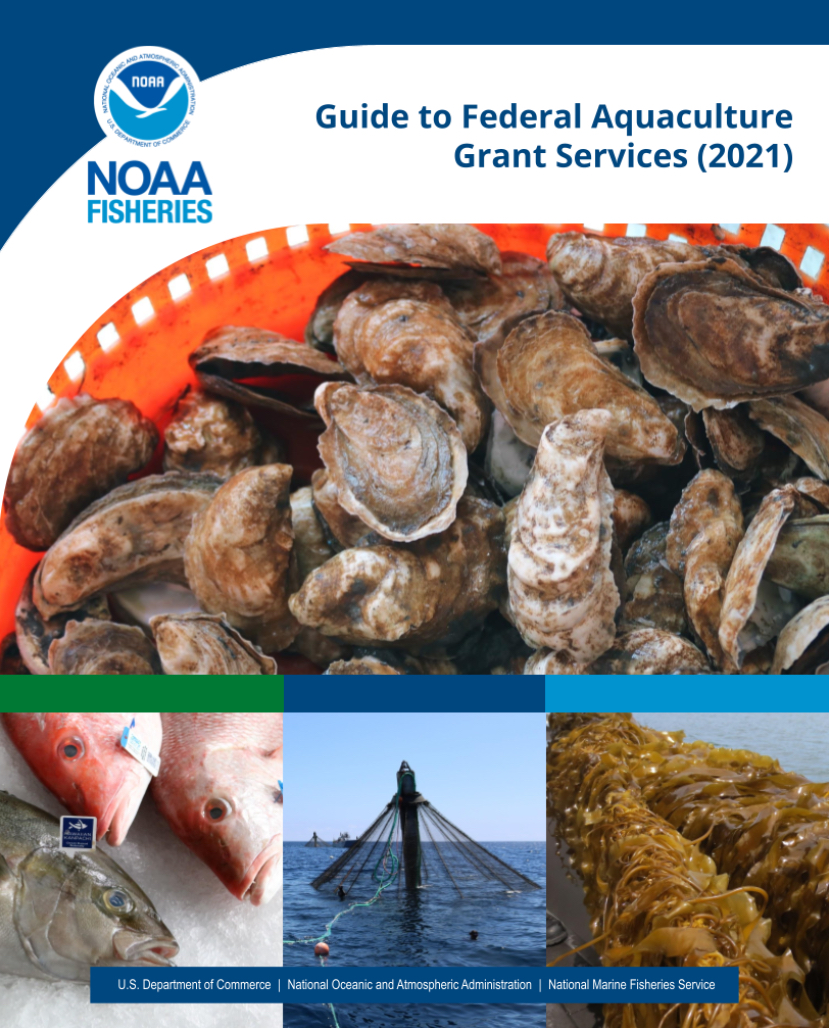 _____________________________________________________________________________
Mark Johannemann Receives Graduate Student of the Year Award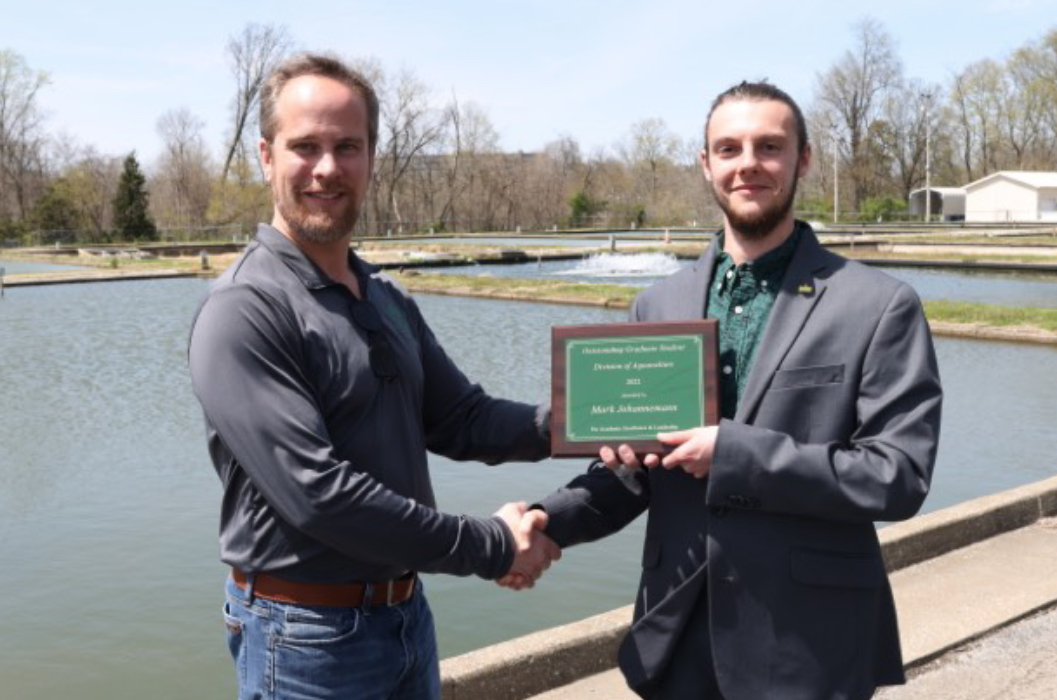 Congratulations to Mr. Mark Johannemann for receiving the Graduate Student of the Year Award for the School of Aquaculture & Aquatic Sciences. Mark received his undergraduate at KSU and now is a student under Dr. Andrew Ray. Through Mark's undergraduate and graduate career at Kentucky State, he has been investigating simple, low cost denitrification methods in biofloc-type brackish water recirculating aquaculture systems.
_____________________________________________________________________________
Michelle Loftus Wins Second Place at the Association of Research Directors Conference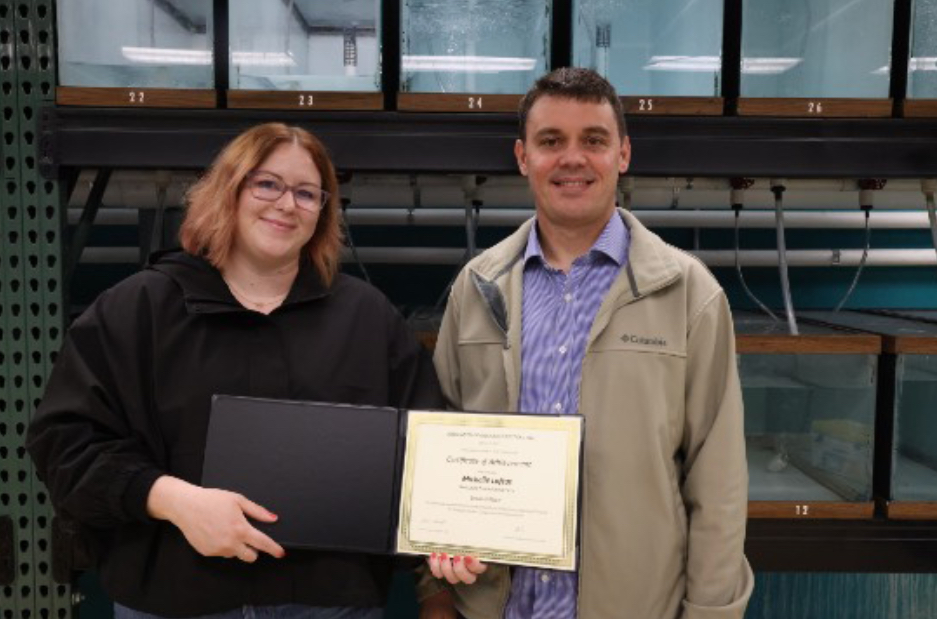 Congratulations to Ms. Michelle Loftus, who won second place in the Animal Health and Production and Products category of the Association of Research Directors Conference held in Atlanta, GA. Michelle's research presentation was titled, "Use of Supplemental Enzymes in Plant Protein-Based Diets for Hybrid-
Striped Bass."
Photo by Charles Weibel
_____________________________________________________________________________
Kentucky State University's Aquaculture Teacher's Manual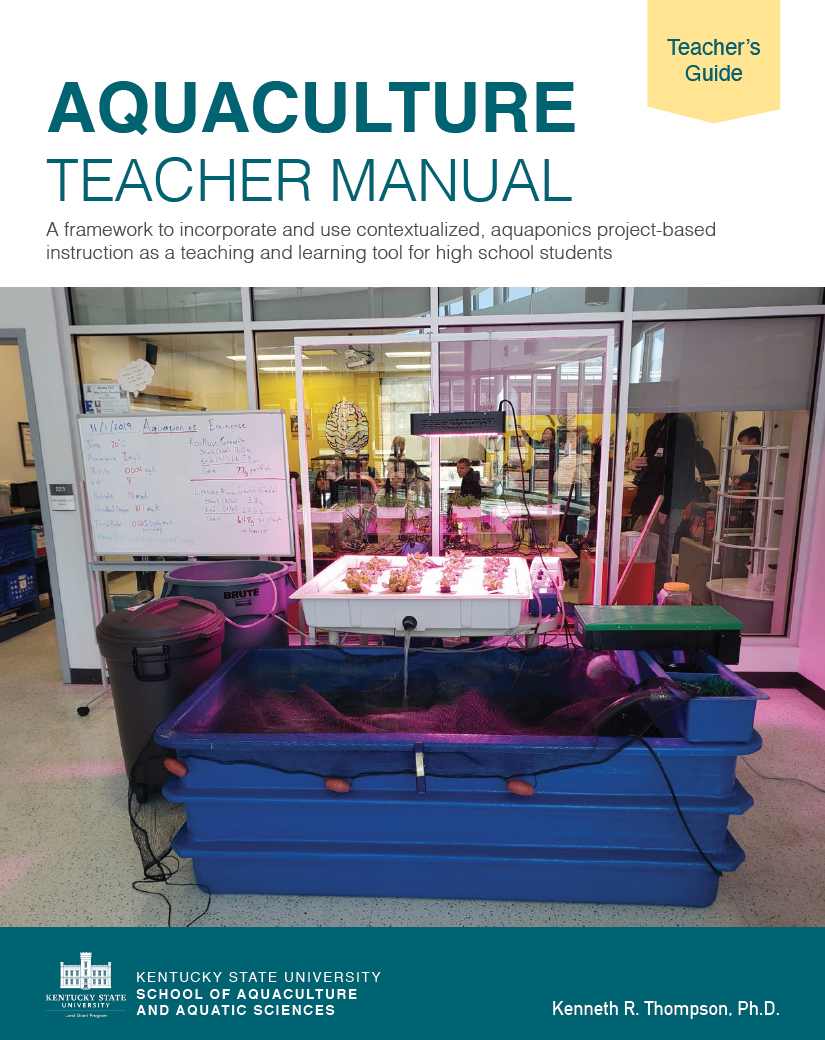 ________________________________________________________________________
KSU Aquaculture Showcases Diversity in Research and Extension at Aquaculture America 2022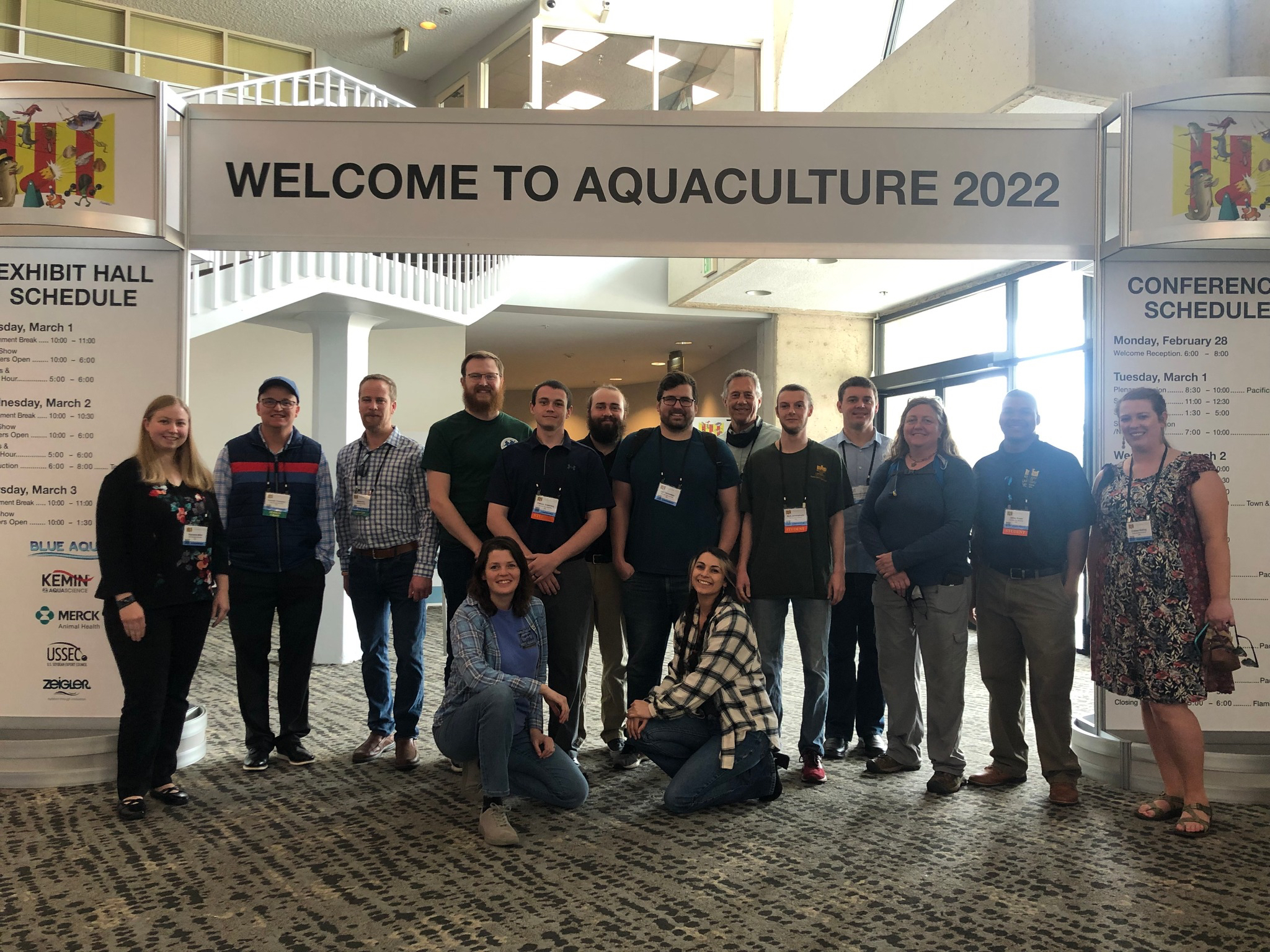 Twenty faculty, staff, and students from Kentucky State University attended the Aquaculture America
Annual Conference in San Diego, California the week of March 1st, 2022. This year was a triennial, combining the annual meetings for Fish Culture Section of the American Fisheries Society, World Aquaculture Society, National Shellfisheries Association, and the National Aquaculture Association. Being the largest aquaculture conference in the world, with nearly 4,000 attendees from 90 countries, the outstanding work conducted at KSU was on full display! In total, participants from KSU gave fourteen oral presentations, three poster presentations, and served as Chair of five conference sessions.
Research and Extension activities in the areas of saltwater shrimp, aquaponics, fish health, fish nutrition, aquaculture engineering, Extension outreach, and K-12 education were presented. KSU Aquaculture Research Program has long been recognized, both nationally and internationally, as a leader in the field. This conference provided an opportunity to showcase just that and continue the legacy of leadership that defines KSU Aquaculture. The financial support of our Land-Grant Program, (for which we are greatly appreciative) was essential in creating this opportunity for faculty, staff, and students.
_________________________________________________________________________
The Effect of Fish Feeding Practices on Water Quality
Aakriti Khanal and Ashton Schardt have been preparing feeds for their water quality class. They will be researching the effects of fish feeds on the water quality of largemouth bass. Feeding is vital in aquaculture because it allows much greater production of fish than possible from natural foods within a pond's ecosystem. However, the nutrients in fish feeds are not converted completely and uneaten feed, feces, and metabolic wastes pollute pond water and could cause its quality to deteriorate.

Aakriti will test two diets with different lipid levels and will be looking at how it affects the ammonia levels in the water. The diet with higher fat is balanced and will not favor protein catabolism as much as the diet with low fat (unbalanced). There should be more ammonia being produced by the lower fat (unbalanced diet). Ammonia causes stress and damages gills and other tissues, even in small amounts.
Ashton will also have two diets but his diets will have different concentrations of phosphorus and will be examining the phosphorus levels in the water after the Largemouth bass consume the feed.The first diet is a balanced diet and the second is in excess phosphorus. The excess phosphorus is the addition of dicalcium phosphate. Phosphorus is an essential nutrient for animals and plants. However, excessive amounts of phosphorus in water could cause explosive growth of algae and aquatic plants. This can lead to water-quality problems, including low dissolved oxygen concentrations, which can kill fish and harm other aquatic life.
Photos by Charles Weibel
_________________________________________________________________________
Team Tidwell Publish Article in Journal of the
World Aquaculture Society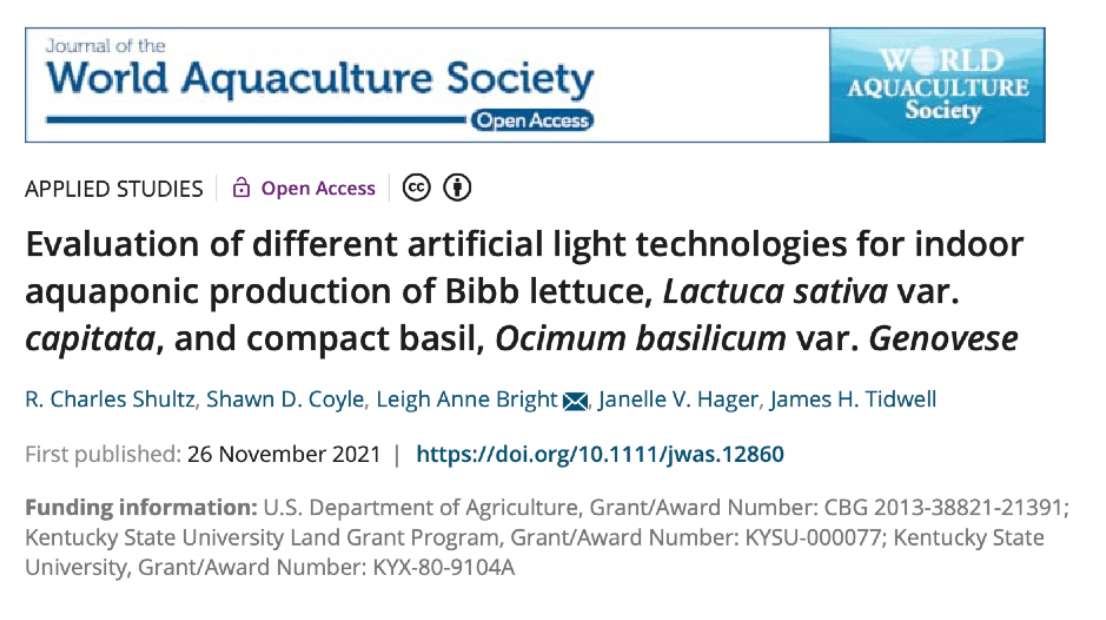 Click Here For Full Journal Article
_________________________________________________________________________
Ultrasound Imaging and Histology Sampling for
Graduate Student Jasmine Iniguez's Thesis Research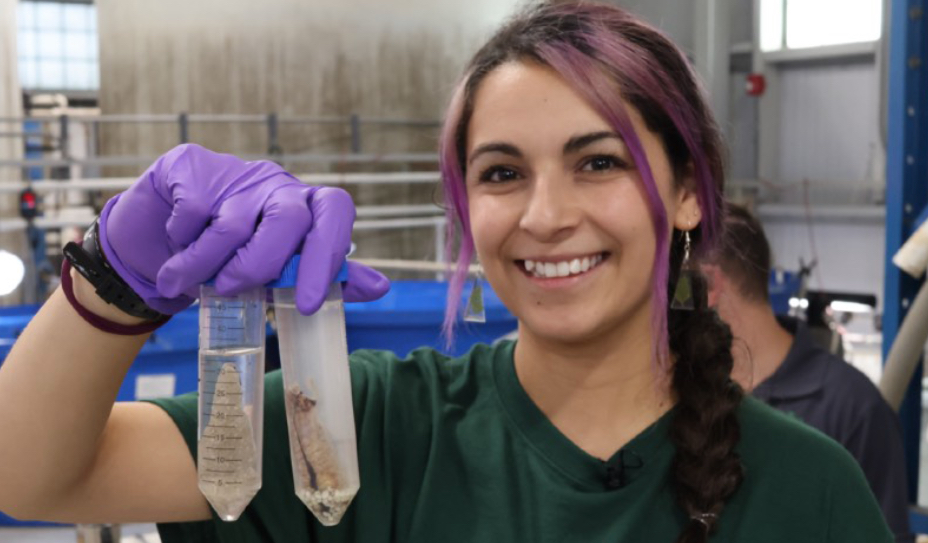 Jasmine Iniguez, Jeffrey Warner, and Dr. Noel Novelo obtained ultrasound images and preserved ovarian samples for histology to complete data collection for Ms. Iniguez's thesis research. The topic of her thesis is: 'Ultrasound Imaging Diagnostics of the Reproductive Organs of Adult Nile Tilapia Oreochromis niloticus'. A total of 12 females were euthanized. Weight (g) and total length (cm) were recorded for each fish. All females were examined using the EVO II Ultrasound Scanner (E.I Medical
Imaging, Loveland, CO, USA) and ultrasound images were saved based on the fish's PIT tag (microchip) number. A cut was placed directly above the section of the skin on which the ultrasound probe was positioned. This incision was used to identify the corresponding probe placement and ultrasound penetration on the ovary. Fish were dissected, and the right ovary closest to the ultrasound probe was marked at the corresponding probe placement with a scalpel. The length (mm), weight (g), and diameter (mm) of each ovary were recorded. Ovaries were placed in 10% neutral buffered formalin for fixation for histology processing.
The ultrasound images and histology will inform ultrasound image interpretation for evaluation of ovarian reproductive condition in Nile Tilapia. An interpretation guide will be created based on ultrasound images and corresponding histology. This guide will assist in improved efficiency of broodstock management for evaluation of reproductive condition for spawning and spawning synchronization in the future.
Photos by Charles Weibel
_______________________________________________________________
Floating Raceway Design For Small Farms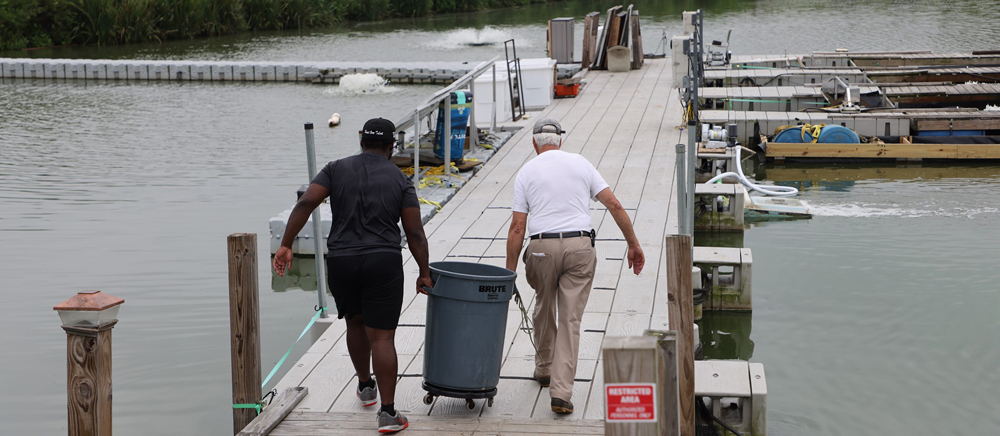 Dr. Semmens crew is developing a floating raceway design for small farms and have recently scaled up a suspended design that can be constructed at modest cost on the small farm. It was stocked with 5000 feed trained largemouth bass fingerlings produced by students and staff at the Aquaculture Research Center to obtain preliminary data. We are growing catfish in our other raceways, but bass represent a higher value fish that has not been evaluated in this format. We expect there will be advantages with feeding, and management of the bass, but cannibalism and rapid fish growth are a concern.
The bass were stocked into a raceway with 9 cubic meters of growing space. The raceway frame is 32 feet long and the raceway itself is about Four feet deep and 20' long with about eight inches of freeboard. The bass stocked in the raceway will be grown out as food fish in other raceways next year. We will assess performance of the bass in the raceway this fall.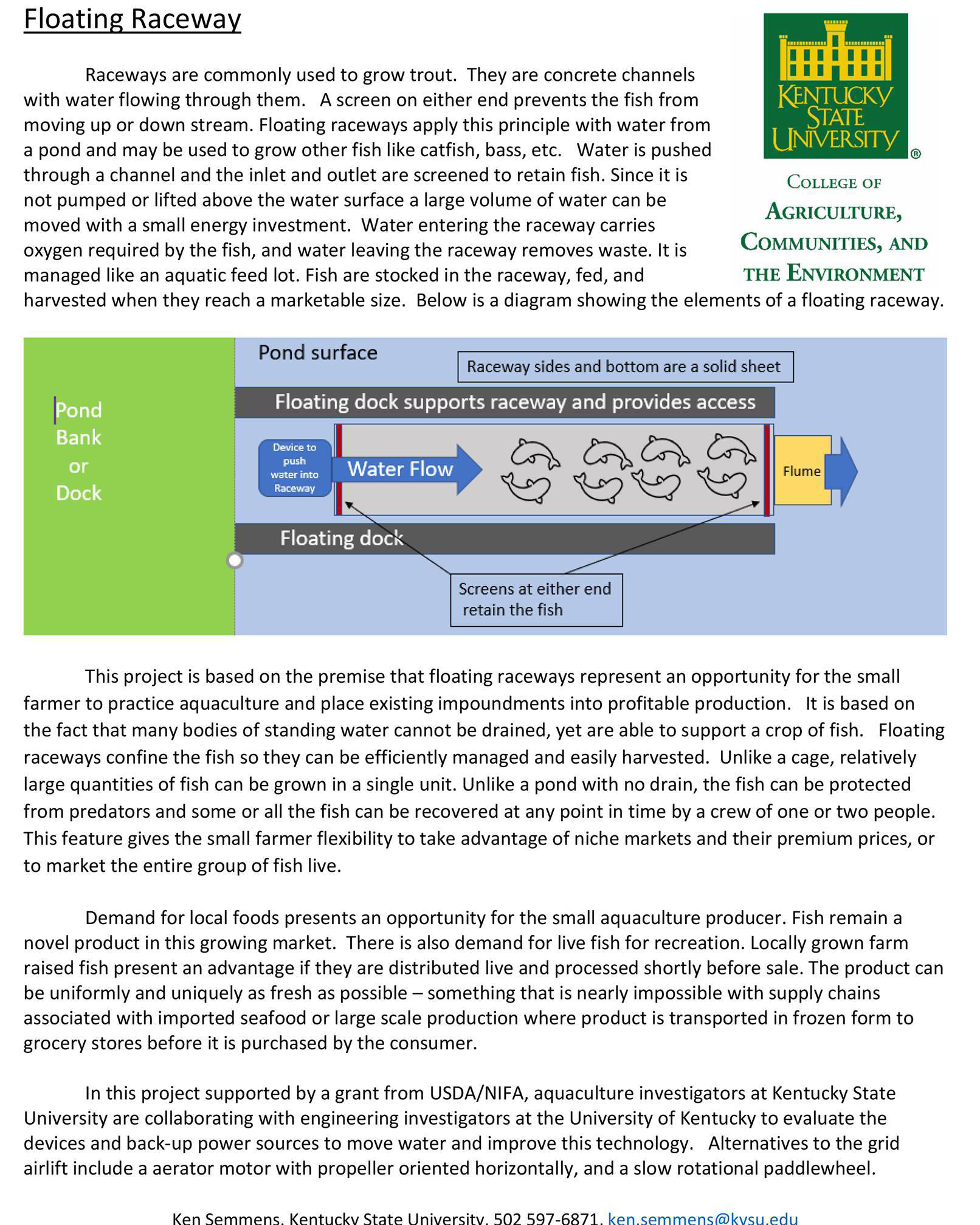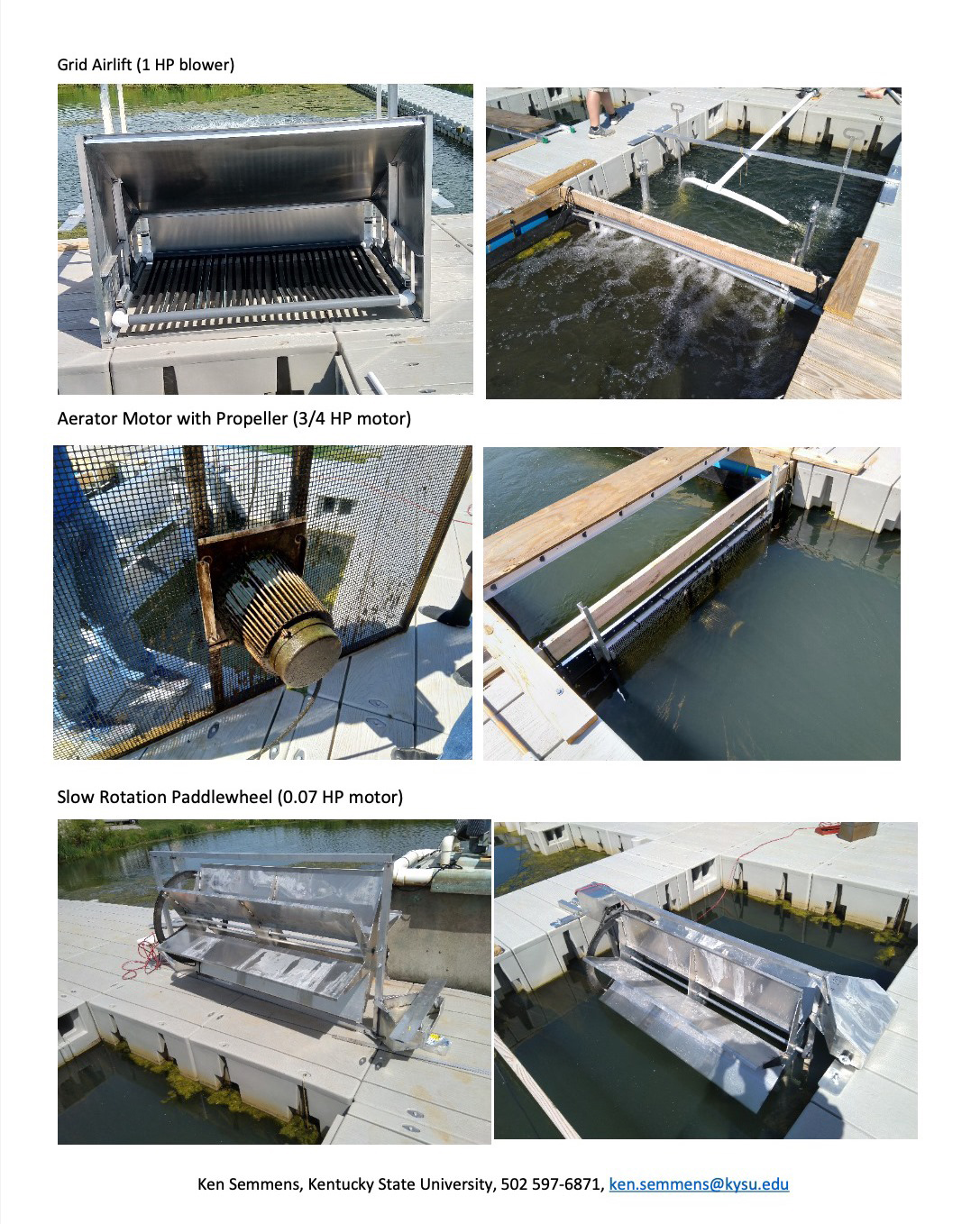 Photos by Charles Weibel
_________________________________________________________________________
Aquaculture Faculty and Staff New Publish New Research Paper
Dr. Boris Gomelsky and Dr. Noel Novelo, and Mr. Shawn Coyle published a new
research paper titled, "Evaluation of growth, sex (Male proportions; sexual
dimorphism), and color segregation in four cross combinations of different
strains o XX female and YY male Nile Tilapia."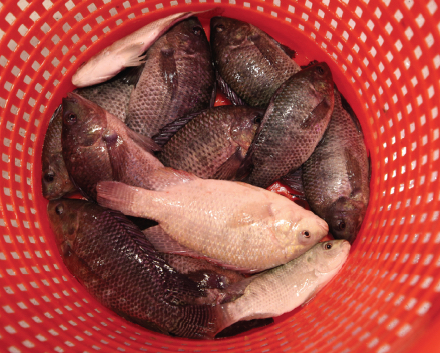 Click Here For Full Journal Article
__________________________________________________________________________
Kentucky State University's Aquaponics Production Manual: A Practical Handbook For Growers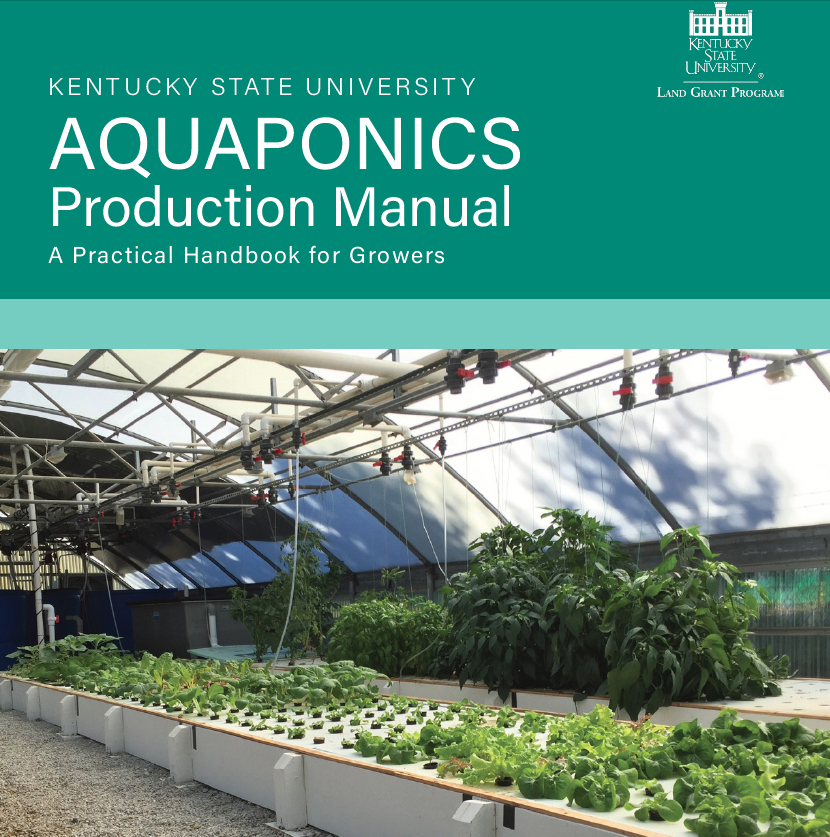 The School of Aquaculture and Aquatics Sciences at Kentucky State University is proud to announce the availability of the Aquaponics Production Manual: A Practical Handbook for Growers. This 75 page comprehensive manual covers the biological concepts of aquaponics, types of systems, suitable fish and plant species, systems management, water quality, disease of plants and fish, controlled environments (greenhouse and indoors), marketing and economics, as well information on certification and regulations. It is written at a level to be practical resource for practicing (or potential) aquaponic producers.
Authors: JANELLE HAGER, LEIGH ANNE BRIGHT, JOSH DUSCI, & JAMES TIDWELL
CLICK HERE FOR COMPLETE MANUAL
________________________________________________________________

Fishing is a wonderful warm-weather pastime many of us enjoy. At the extension office, we often receive calls in the spring and fall from landowners on how to properly stock recreational ponds with fish.

Pond owners can call farm supply stores during the spring and fall to find out when their live fish trucks may arrive. Fish are typically transported during cool weather to reduce handling stress. The fish are typically small and can be hauled short distances in large, water filled containers.

Kentucky Department of Fish and Wildlife Resources no longer stocks recreational ponds, but the department recommends the following fish species to establish a balanced fish population that will provide good pond fishing in about two years' time. Bluegill (not hybrid bluegill) and largemouth bass form a predator-prey relationship where the prolific spawning of bluegill provide enough food to support a largemouth bass population. Largemouth bass consume some of the bluegill and control their overpopulation. Two years after you stock a pond, you should have largemouth bass at least a foot long and bluegill at least 6 inches in length. You can catch these fish provided they are stocked and harvested in the proper numbers.
________________________________________________________________
Dr. Ray's Research Team Publishes Research:
"Evaluating a low-cost salt mixture in brackish water intensive shrimp (litopenaeus vannamei) production systems"
Marine shrimp grow well in tanks and recirculating aquaculture systems, making them a great candidate for providing fresh healthy seafood to consumers at inland locations. However, commercially available sea salts can be a substantial expense when growing shrimp inland.

To help overcome this, the Ray Lab conducted an experiment comparing a much less expensive home-made salt mixture to a commercial product. They used five different ratios of low-cost/commercial salt mixtures, including a 100% low-cost treatment.

The experiment resulted in no significant differences in shrimp production using any of the salt ratios, and the cost of salt per kg of shrimp produced was 57% lower using a 100% low-cost salt compared to the commercial product.
Click Here For Full Journal Article
_________________________________________________________________________
New Publication on the Evaluation of Growth, Sex (Male Proportion; Sexual Dimorphism) and Color Segregation

Dr. Novelo, Dr. Gomelsky, Shawn Coyle and Alex Kramer have published an article "Evaluation of growth, sex (male proportion; sexual dimorphism) and color segregation in four cross combinations of
different strains of XX female and YY male Nile Tilapia" in the Journal of the World Aquaculture Society.
Abstract
Four cross combinations of different YY male and female Nile Tilapia, Oreochromis niloticus, strains were evaluated for growth, sex, and color segregation. Red color parental strains included blotched phenotypes. The Genetically Improved Farmed Tilapia (GIFT) was the only dark (wild-type) color parental strain. Fish of the same age and cross were stocked in three replicate tanks for four crosses in one recirculating system for 167 days. Data recorded included feed consumed, body weight, total length, color, sex, and fillet weight. YY males crossed with GIFT females (Cross 2) exhibited superior growth that was significantly different (p < .05) to other three crosses. Male proportions were 79–100%. Only YY males crossed with the LSA female strain (Cross 4) yielded 100% males, but, Cross 4's productivity was inferior to that of Cross 2. Body weight advantage of males over females was 28.7–84.2%. Color segregation indicated that red color trait in Nile Tilapia is autosomal dominant, and black patch coverage was variable. This study showed that different parental strain combinations clearly impact productivity traits, and that YY male technology combined with crossbreeding provide the opportunity for genetic improvement and development of commercially beneficial superior traits in Nile Tilapia.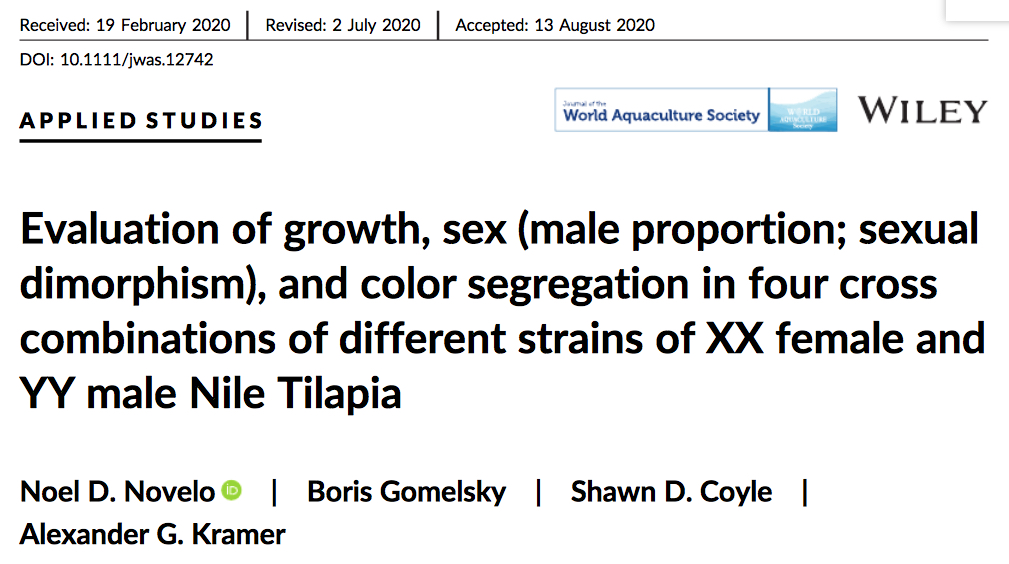 Click Here For Full Journal Publication
Photos for Charles Weibel
_________________________________________________________________________
Kasandra Miller Publishes Her Masters Thesis in Aquaculture Nutrition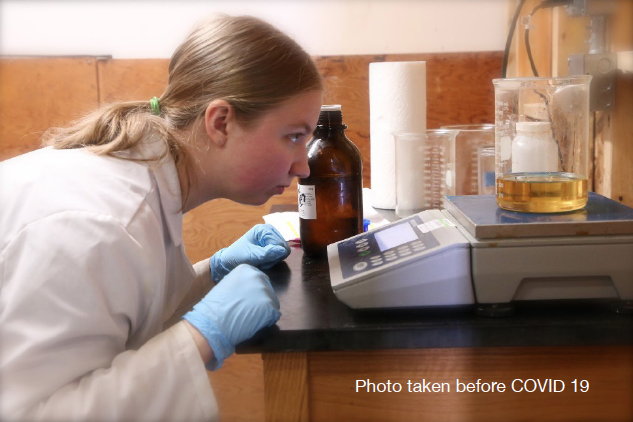 Kasondra Miller published her Masters Thesis research in Aquaculture Nutrition. Her research is titled "Assessment of total dietary phosphorus requirements of juvenile largemouth bass, Micropterus salmoides, using soybean meal-based diets: Effects on production performance, tissue mineralization, physiological parameters in plasma and intestine and expression of head-kidney genes."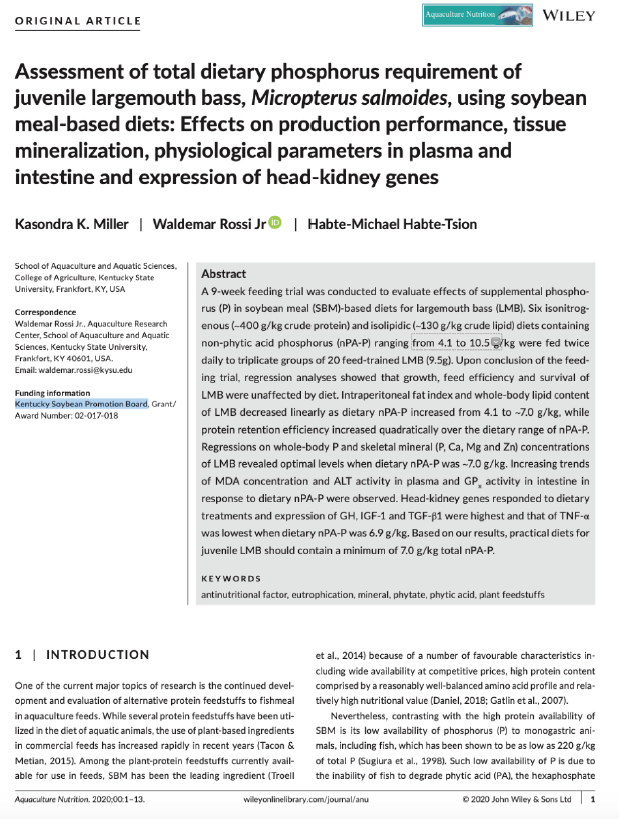 Kasondra currently works for Dr. Waldemar Rossi Jr as a Research Assistant. Funding from the Kentucky Soybean Promotion Board was provided for this research.
Pictures by Charles Weibel
_________________________________________________________________________
Dr. Andrew Ray's Team Published in Aquaculture Engineering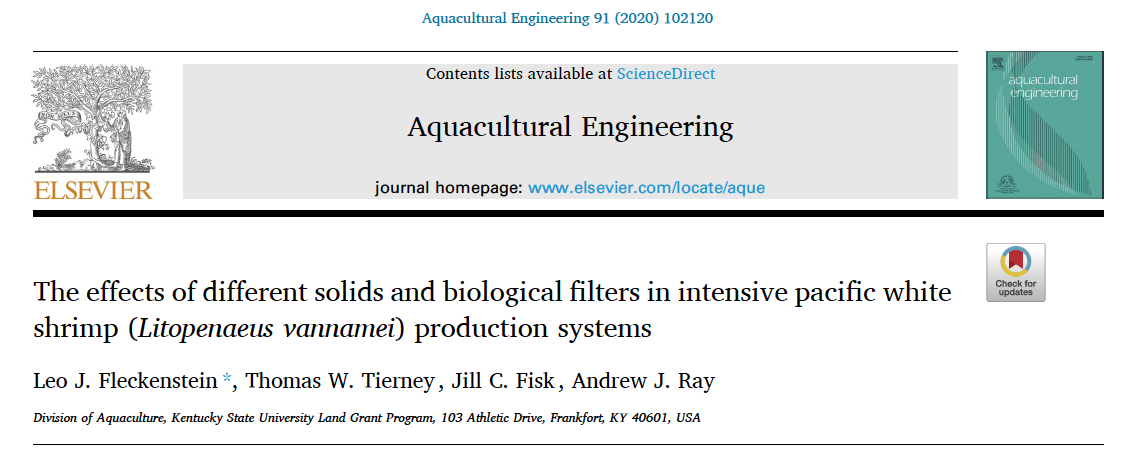 Click Here For Full Journal Article
_________________________________________________________________________
Team Ray Publishes Research in Aquaculture Engineering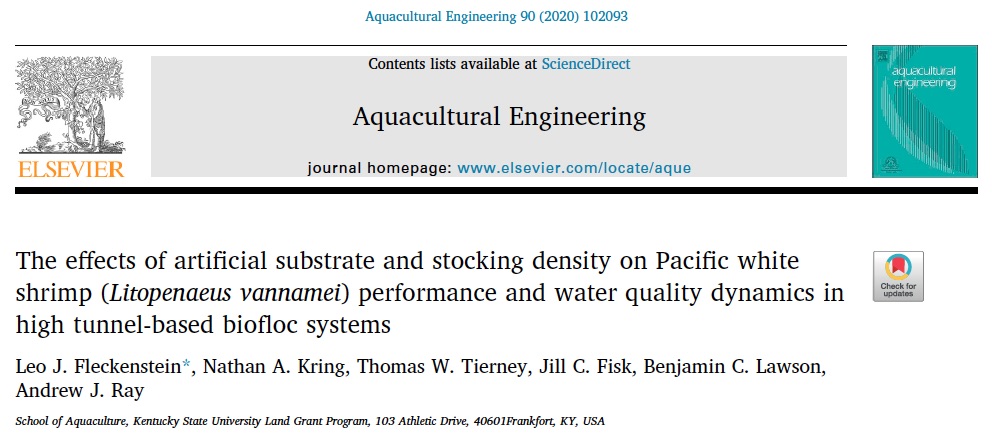 The Dr. Andrew Ray's lab recently published a new research paper in the peer-reviewed journal Aquacultural Engineering. The paper is titled "The effects of artificial substrate and stocking density on Pacific white shrimp (Litopenaeus vannamei) performance and water quality dynamics in high tunnel-based biofloc systems" and is the first aquaculture study completed in the KSU Organic High Tunnel facility. This study found that increasing density can greatly increase total shrimp harvest weight with minimal impacts on individual performance, decreased nitrate accumulation in the systems due to algal activity, and the feasibility of shrimp production in high tunnels in temperate climates without the use of supplemental heat sources (electric or gas).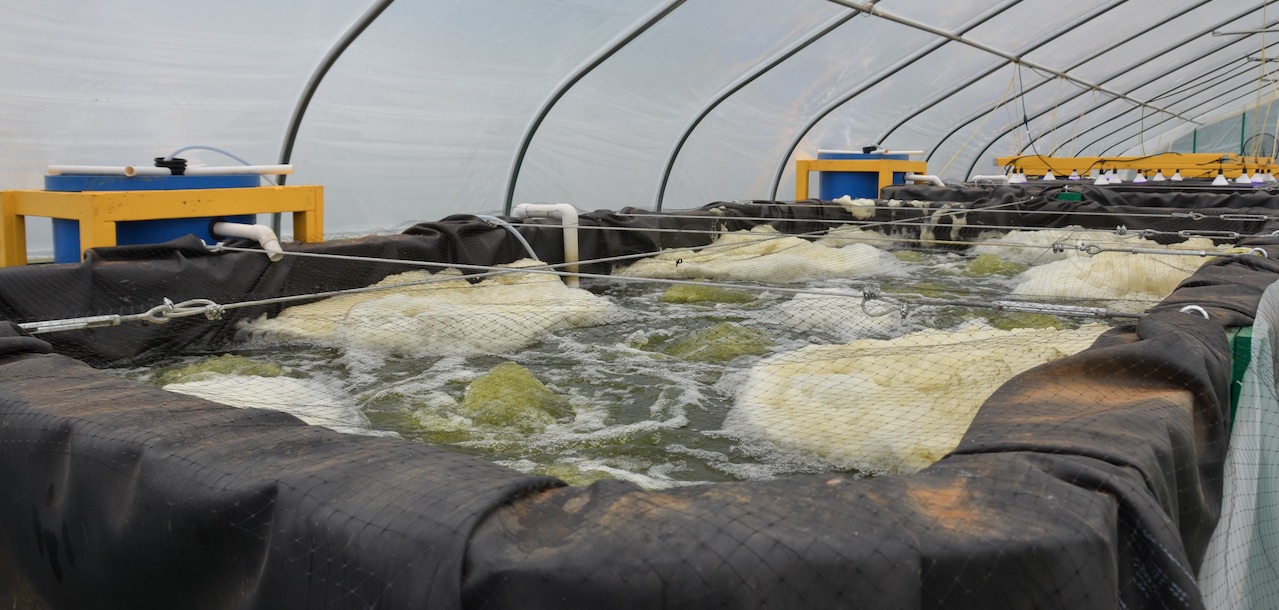 _________________________________________________________________________
Dr. Ray Collaborates With The University of Arkansas Pine Bluff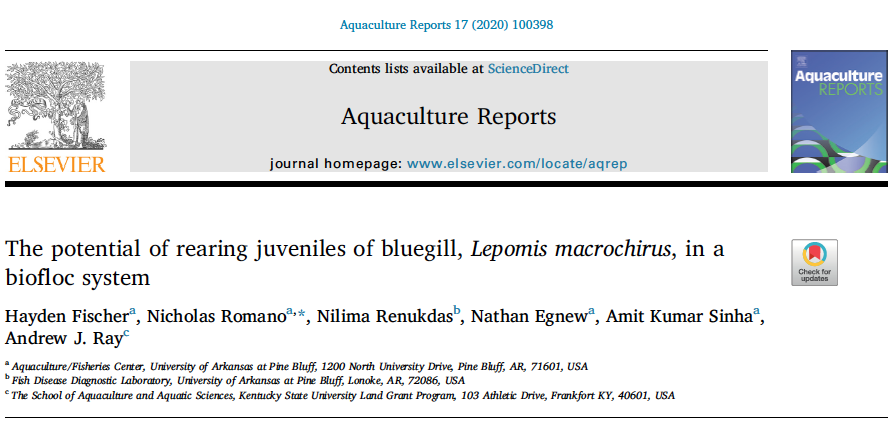 Along with collaborators at the University of Arkansas Pine Bluff (UAPB), Dr. Ray published a new manuscript in the journal Aquaculture Reports.

UAPB is a sister institution of KSU; they are an HBCU and have an 1890 Land Grant Program which includes an Aquaculture and Fisheries Program. The manuscript investigates the production of bluegill in several types of aquaculture systems, including biofloc systems.

The results indicate that bluegill are suitable candidates for biofloc systems and may be able to get some nutritional benefits from the plankton found in the water column.
Click Here To Read Full Article
_________________________________________________________________________
Dr. Bob Durborow Co-Authors Spring 2020 Article from Aquaculture Reports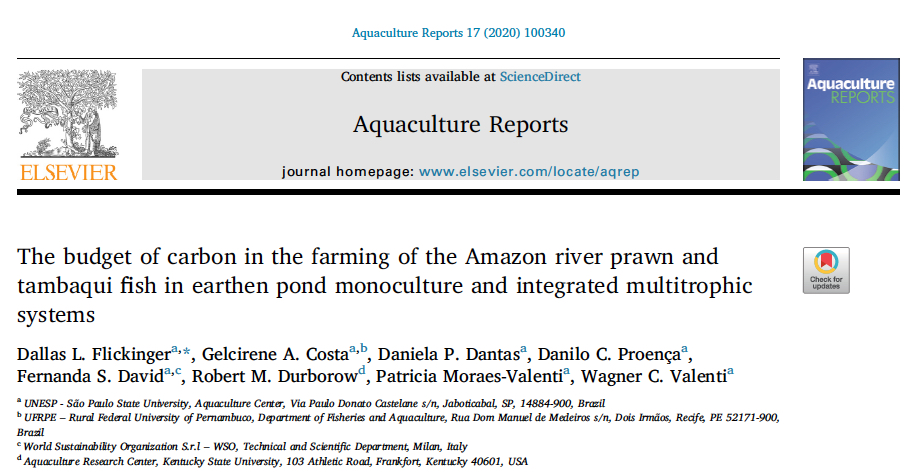 Dr. Bob Durborow, Interim Assistant Research Director, has co-authored this spring 2020 article from Aquaculture Reports demonstrating that pond aquaculture is beneficial to the environment. The paper summarizes, "In conclusion, the present study contributes to filling data gaps in the understanding of the carbon cycle in freshwater aquaculture carried out in earthen ponds. Atmospheric carbon dioxide represented a high proportion of the carbon inputs, and its absorption by the earthen ponds was consistent throughout the experimental period, whereas carbon gas emissions were negligible."
__________________________________________________________________________
Dr. Andrew Ray Publishes SRAC Publication on Indoor Marine Shrimp Farming

Click the link below for the full publication:
_________________________________________________________________________
Meet the Author: Largemouth Bass Aquaculture
Jim Tidwell, author of the book Largemouth Bass Aquaculture, which is published by 5m books in April, explains the appeal of a species whose growth is taking off both in China and the US.
Click the link for full article:
https://thefishsite.com/articles/meet-the-author-largemouth-bass-aquaculture
__________________________________________________________________________________________________________________