KSU's PROGRAM of DISTINCTION
Largemouth Bass Study Harvested

Interest in largemouth bass as an aquaculture species is increasing, especially as a live food fish within ethnic Asian markets throughout the United States. Therefore, Kentucky State University's Aquaculture Research Center has been researching largemouth bass for several years.
KSU's ARC Faculty, staff and students harvested a twelve pond largemouth bass diet study this week. Fish were counted, weighed, and measured to analyze how each of the four experimental diets performed. Blood was also drawn from a small sample of fish from each pond. The blood was then analyzed to look at liver health. The data collected is currently being used to compare how each diet effected growth, health, and liver histology of largemouth bass.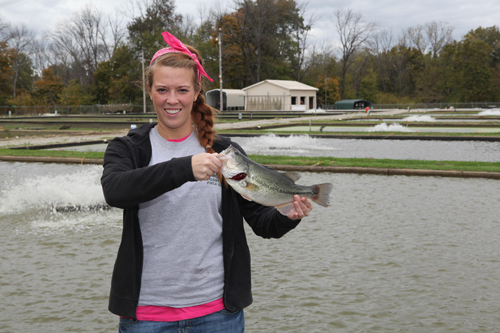 Photos by Charles Weibel
_________________________________________________________________________________________
Aquaculture Products at Frankfort's Farmers Market
Kentucky State University Aquaculture faculty and students visited the Frankfort Farmers Market on Saturday, September 13, 2014 to offer samples of Australian Red Claw Crayfish and conduct a survey on how well the public thought they tasted and how much they might be willing to pay to buy this product. Also a local farming family, Randy and Carla Kendal sold their Freshwater Prawn on the same morning at the farmers market.
Photos by Charles Weibel
________________________________________

Is Aquaculture Sustainable? Mythbusting Feed, Food, and the Future
Video by Dr. Jesse T. Trushenski
Center for Fisheries, Aquaculture, & Aquatic Sciences
Southern Illinois University at Carbondale
EVENTS

________________________________

Kentucky Academy of Science Centennial Meeting

Lexington, KY

November 14-16, 2014

------------------------------------------------

Aquaculture America 2015

New Orleans, LA

February 19-22, 2015