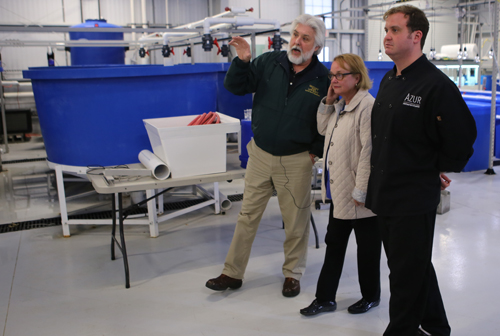 Food News and Chews is a improbable pairing of co-host Chef Jeremy
Ashby of Azur Restaurant and Patio and cook-aphobic Sylvia Lovely.
The show is more than a cooking show. It is also about food and the role
it plays in our lives and culture. Chef Jeremy and Sylvia visited KSU
Aquaculture to record an episode and to interview Angela Caporelli
from the Department of Agriculture, Dr. James Tidwell and Janelle
Hager from the ARC. During the show Chef Jeremy will
be cooking with some of the vegetables and tilapia grown in the
aquaponics system at KSU. The show will air sometime in April. For
more information on Food News and Chews please visit their website:
www.foodnewsandchews.com
Photos by Charles Weibel
__________________________________________________________________________________________________________________________
KSU Aquaculture Research Center Battles Disease Through Fisheries Restoration
Schistosomiasis is a chronic parasitic disease caused by blood flukes of the genus Schistosoma. Schistosomes are dependent on two hosts to complete their life cycle, an intermediate freshwater snail host and a definitive (adult form) vertebrate host which includes humans. The adult parasites can live for decades and cause progressive damage to organ tissues such as the bladder, liver and intestines and can eventually result in mortality. Free-living Schistosomes are transmitted by direct contact with water sources inhabited by snails. One of the most heavily infected areas in the world is the Senegal River basin in which the outbreak of the disease occurred following the construction of a dam in 1986.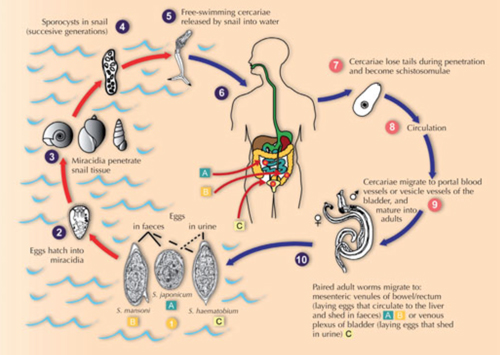 Image Courtesy of Public Health Image Library
The African river prawn is a large decapod crustacean endemic to the west coast of Africa from the Senegal River to Angola. Prior to dam construction, the Senegal River basin supported an artisanal prawn fishery extending from the coast to more than 200 miles inland. Due to a dependence on brackish water to complete their life cycle, prawns have now been extirpated from the upper freshwater portion of the Senegal River basin. Due to its relatively large size, high market value and tendency to consume medically important snails, M. vollenhovenii has been proposed as a candidate for commercial aquaculture and as an agent for biological control of schistosomiasis in Senegal.
The ability of a species-specific larvaculture technology is the primary bottleneck to production of the species for either commercial or fisheries use. To date little research has been done related to the propagation of this particular species. As authorities in the development of production technologies for a similar species of freshwater prawn, Macrobrachium rosenbergii, Kentucky State University (KSU) researchers have been contracted to assist in larviculture development of M. vollenhovenii. Larval development in Palimonidae crustaceans is complicated by a relatively long hatchery phase where larvae undergo several stages of transformational development before reaching the post-larval stage where they are ready for freshwater. Larviculture technologies are to be developed at KSU and then transferred to Senegal through on-site training.
The project mission is to restore native prawn populations in the Senegal River basin for the purpose of disease and poverty alleviation through fisheries restoration and aquaculture development. This is a multi-faceted intergrated project with many arms working together and some independently to achieve this common goal. Several different funding agencies have supported this project including the National Science Foundation, the Gates Foundation, and Grand Challenges Canada. Researchers from six countries and a dozen universities are involved based on their expertise in specialized areas from epidemiology to economics. At KSU, this research will support two graduate student research assistanceships and a full time research associate for two years. The project duration is four years overall with four planned missions to Senegal.
KSU system photos provided by Charles Weibel
________________________________________________________________________________________________________