Six Aquaculture Research Center Students (Thomas Allin Delomas from Lexington, KY; Richard Cameron Bryant from Autaugaville, AL; Grant Christian Currin from San Diego, CA; Luke Oliver from Palmyra, ME; Alexander Paul Philipchik from Delmar, NY; and Zachary A. Kupchinsky from Tamaqua, PA) were candidates for graduation during the One Hundred and Twenty-Sixth Commencement Convocation. All six graduate with a Masters of Science in Aquaculture and Aquatic Sciences from the College of Agriculture, Food Science, and Sustainable Systems.
Photo by Charles Weibel
__________________________________________________________________________________________________________________________
Large Spawn at the KSU Aquaculture Hatchery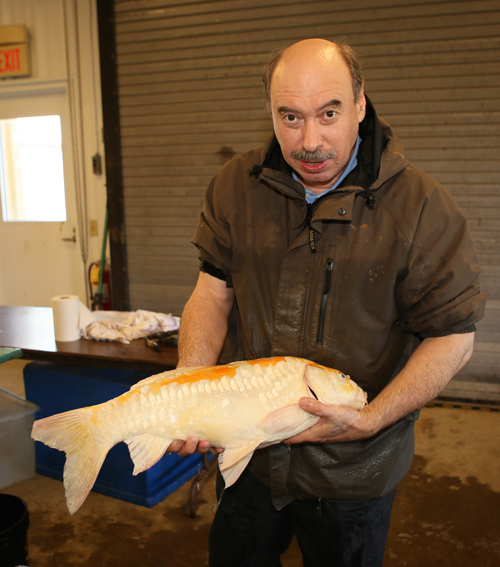 This past week, Dr. Boris Gomelsky and his graduate students, Thomas Delomas and Jeffery Warner were busy spawning koi and koi x goldfish hybrids. A total of 10 different crosses of fish were performed and now are in the McDonlad incubation jars in the hatchery.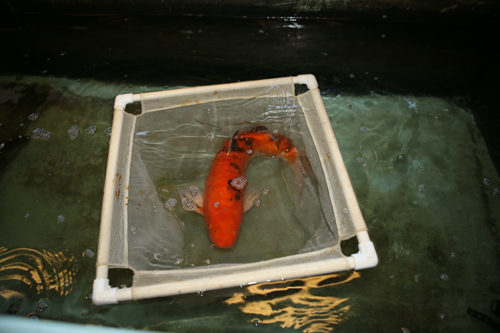 Dr. Gomelsky's research projects cover three following areas: evaluation of reproductive ability of triploid koi females, production and investigation of koi x goldfish hybrids and analysis of color inheritance in koi.
While working in the hatchery, KSU researchers received help from a visitor, Mr. Mark Einkenberry. Mark is the owner and operator of Sweetwater Spring Fish Farm in Peru, Indiana. Mark came to the KSU Aquaculture facility to learn methods for production of koi x goldfish hybrids by artificial spawning. Mr. Einkenberry presumes that these hybrids have a strong potential as an edible fish for Asian consumers in the United States.
Photos by Charles Weibel

________________________________________________________________________________________________________