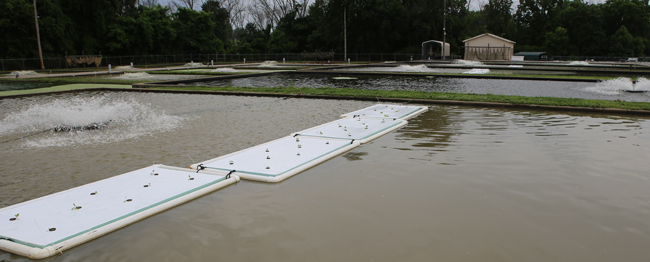 Aquaponics research at the Aquaculture Research Center is expanding to the great outdoors. Over the next few months, a variety of different crops will be evaluated for their suitability for pond aquaponics. Polystyrene rafts floating on ponds stocked with 400 largemouth bass per pond will determine which crop varieties could be grown at low nutrient densities present in aquaculture and farm ponds. Interest in this type of low-tech food production is growing. Information gathered during the course of this research will provide Kentucky farmers with information on how to make their aquaponic endeavors more profitable.
Photo by Charles Weibel
__________________________________________________________________________________________________________________________
KSU Agriculture, Food and Environment (AFE) Academy Enhancing Opportunities for Education and Professional Development for Students and Educators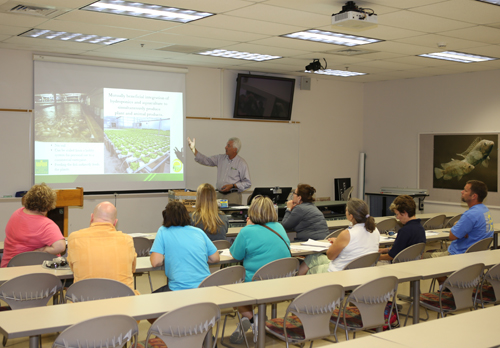 Kentucky State University's Agriculture, Food and Environment (AFE) Academy is enhancing opportunities for education and professional development for students and educators. This is the first of a 3 year project to engage high school teachers and their students in KSU agriculture activities. The academy will focus on several new aspects of agriculture, food science, environment, and related fields in an effort to bring light to these subjects in Kentucky classrooms and promote opportunities to teachers and students. On June 18 and 19, the academy featured GIS, Animal Science Programs, Nutrition, Local Foods, Environment, and Dr. Ken Semmens at the Aquaculture Research Center covered Aquaponics.
photo by Charles Weibel
________________________________________________________
Farming for Cash Project Team Organic Hydroponics Workshop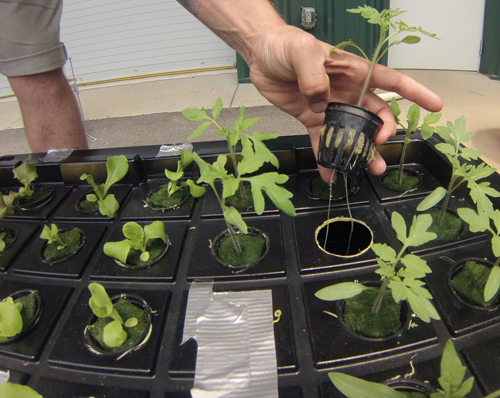 The Farming for Cash team conducted an organic hydroponics workshop on June 15, 2015 at the KSU Aquaculture Research Center. During this workshop they discussed:
- Discussed hydroponics in general (different types of systems as well as general plant nutrient needs and how to monitor it).
- Discussed what organic production is - particularly focusing on what it requires to be certified organic.
- Discussed specifics of certified organic hydroponic systems (NFT system that is good for greens and Bato Bucket system for tomatoes, cucumbers, peppers, etc.).
This workshop was taught by Dr. Barbara Liedl from West Virginia State University. Richard Bryant and Dr. Dasgupta organized the workshop and assisted with a tour of the facilities.
Photo by Charles Weibel
_____________________________________________________________________________________________________